For other articles with related titles, see Durtung the Arm of War.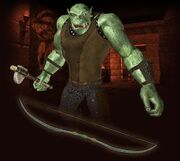 .
What does this information mean?
Scout Report
Edit
Your insight to Durtung the Arm of War reveals the following:
General Information:

Max Health: 125051310509
Strength: 2457
Resolve: 255
Potency: 500

Weapon Information:

Damage Per Second: 450
Attack Speed: 450
Strikethrough: 40
Accuracy: 85

Recommended Stats:

Health: 2000000
Noxious Resist: 225000
Elemental Resist: 225000
Arcane Resist: 225000
Ad blocker interference detected!
Wikia is a free-to-use site that makes money from advertising. We have a modified experience for viewers using ad blockers

Wikia is not accessible if you've made further modifications. Remove the custom ad blocker rule(s) and the page will load as expected.