In-Game Examine Window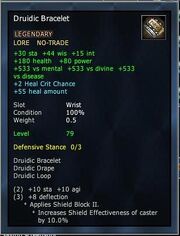 \aITEM -2050329418 389373996:Druidic Bracelet\/a \aITEM -2050329418 389373996:Druidic Bracelet\/a
What does this information mean?
Armor Set: Defensive Stance
or
---
(2) +10 sta +10 agi
(3) +8 deflection

Applies Shield Block II.

Increases Shield Effectiveness of caster by 10.0%
There are actually several Defensive Stance sets with the same name and effects. Items from a different set will not contribute towards the set bonus in another set. In other words, you will not get a two set bonus for just wearing both a Druidic Bracelet and a Stone Tower Earring, since they belong in different sets.
Ad blocker interference detected!
Wikia is a free-to-use site that makes money from advertising. We have a modified experience for viewers using ad blockers

Wikia is not accessible if you've made further modifications. Remove the custom ad blocker rule(s) and the page will load as expected.