For other articles with related titles, see Dragon's Temper.

In-Game Examine Window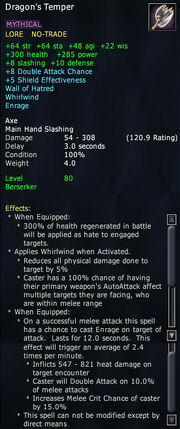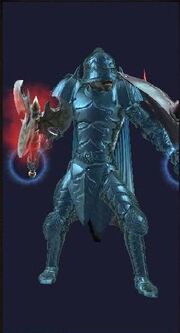 Dragon's Temper

MYTHICAL
LORE    NO-TRADE

+64 str

+48 agi

+22 wis

+64 sta




+300 health

+285 power


+8 Slashing +10 Defense

8% Crit Chance

+5 Shield Effectiveness
Wall of Hatred
Whirlwind
Enrage
 
Axe
Main Hand Slashing
Damage
54 - 308                  (120.9 Rating)
Delay
3.0 seconds
Level
80 (Tier 9)
Berserker
 
Effects:


When Equipped:

Adds a hate position increase to the initial taunt portion of Insolence.
25% of the damage done to the berserker will be added back to the attack as additional hate.

Applies Whirlwind when Activated.

Caster has a 100% chance of having their primary weapon's AutoAttack affect multiple targets they are facing, who are within melee range.
Reduces all physical damage done to caster by 5%

When Equipped:

On a successful melee attack this spell has a chance to cast Enrage on target of attack. Last for 12.0 seconds. This attack will trigger an average of 2.4 times per minute

Caster will Double Attack on 10.0% of melee attacks
Increases Melee Crit Chance of caster by 15.0%
Inflicts 547 - 821 heat damage on target encounter

This spell can not be modified except by direct means
Obtain: Reward from the quest "Honing the Lust of the Dragon's Temper."
\aITEM -216472471 369393578:Dragon's Temper\/a \aITEM -216472471 369393578:Dragon's Temper\/a
What does this information mean?
This item is a reward from one of the Epic Quests introduced with Game Update 42.
See the item's Obtain field for the particular quest that rewards this item.