Ad blocker interference detected!
Wikia is a free-to-use site that makes money from advertising. We have a modified experience for viewers using ad blockers

Wikia is not accessible if you've made further modifications. Remove the custom ad blocker rule(s) and the page will load as expected.
In-Game Examine Window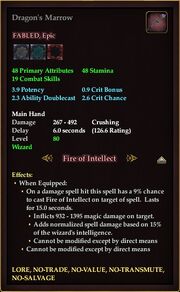 Dragon's Marrow (Fabled)

FABLED
LORE   NO-TRADE

+24 wis

+40 int

+32 sta




+200 health

+200 power


+4 Focus +6 Disruption

4% Crit Chance

Fire Intellect
 
Staff
Main Hand Crushing
Damage
108-325                  (86.6 Rating)
Delay
5.0 seconds
Level
80 (Tier 9)
Wizard
 
Effects:


When Equipped:

On a successful spell attack this spell has a 9% chance to cast Fire of Intellect on target of spell. Lasts for 15.0 seconds.

Adds normalized spell damage based on 15% of the wizard's intelligence
Inflicts 374-562 heat damage on target

This spell can not be modified except by direct means
Obtain: Reward from the quest "Wizard Epic Weapon Timeline."
\aITEM -1311819234 1176896923:Dragon's Marrow\/a \aITEM -1311819234 1176896923:Dragon's Marrow\/a
What does this information mean?
This item is a reward from one of the Epic Quests introduced with Game Update 42.
See the item's Obtain field for the particular quest that rewards this item.