In-Game Examine Window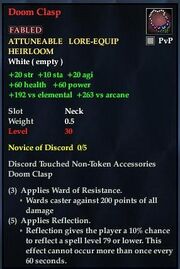 \aITEM 1889643602 694280118:Doom Clasp\/a \aITEM 1889643602 694280118:Doom Clasp\/a
What does this information mean?
Armor Set: Novice of Discord
---
(3) Applies Ward of Resistance.

Wards caster against 200 points of all damage

Cannot be modified except by direct means

(5) Applies Reflection.

Reflection gives the player a 10% chance to reflect a spell level 79 or lower. This effect cannot occur more than once every 60 seconds.
EQ2i credits this article at Census for the info in this article.
the last update on Census for this item was:
Tue, 18 Jul 2017 14:53:03 +0000
Ad blocker interference detected!
Wikia is a free-to-use site that makes money from advertising. We have a modified experience for viewers using ad blockers

Wikia is not accessible if you've made further modifications. Remove the custom ad blocker rule(s) and the page will load as expected.