You may upload a JPG or PNG image of the in-game examine window.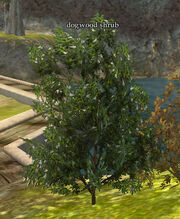 EverQuest II Item Information
\aITEM 1718627415 1230726297:Dogwood Shrub\/a \aITEM 1718627415 1230726297:Dogwood Shrub\/a
What does this information mean?
This item is both used to craft and it can be placed in your house.
Unlike the many other plunder decor items, you must be at least level 100 in your craft and have one of the two quests this is used for, in order to gather it. The item is Heirloom.
Because of the above, be sure to gather extras while you have the quests.
EQ2i credits this article at Census for the info in this article.
the last update on Census for this item was:
Tue, 18 Jul 2017 14:50:23 +0000
Ad blocker interference detected!
Wikia is a free-to-use site that makes money from advertising. We have a modified experience for viewers using ad blockers

Wikia is not accessible if you've made further modifications. Remove the custom ad blocker rule(s) and the page will load as expected.