Ad blocker interference detected!
Wikia is a free-to-use site that makes money from advertising. We have a modified experience for viewers using ad blockers

Wikia is not accessible if you've made further modifications. Remove the custom ad blocker rule(s) and the page will load as expected.
In-Game Examine Window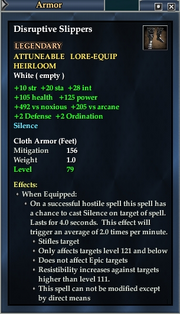 Disruptive Slippers

LEGENDARY
ATTUNEABLE   LORE-EQUIP   HEIRLOOM

+10 str

+28 int

+20 sta




+105 health

+125 power


+492 vs noxious +205 vs arcane
+2 Defense
+2 Ordination

Silence
 
Cloth Armor (Feet)
Mitigation
156
Level
79 (Tier 8)
 
Effects:


When Equipped:

On a successful hostile spell this spell has a chance to cast Silence on target of spell. Lasts for 4.0 seconds. This effect will trigger an average of 2.0 times per minute.

Stifles target
Only affects targets level 121 and below
Does not affect Epic targets
Resistibility increases against targets higher than level 111.
This spell can not be modified except by direct means
Obtain: From the Ornate Chest of Harbringer Freglor in the Crypt of Agony.
\aITEM -444990610 -223495960:\/a \aITEM -444990610 -223495960:\/a
What does this information mean?