This item is granted by the Dimensional Pocket Legends of Norrath Loot Card.
In-Game Examine Window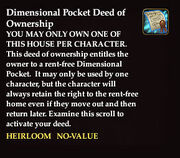 EverQuest II Item Information
Dimensional Pocket Deed of Ownership

YOU MAY ONLY OWN ONE OF THIS HOUSE PER CHARACTER. This deed of ownership entitles the owner to a rent-free Dimensional Pocket. It may only be used by one character, but the character will always retain the right to the rent-free home even if they move out and then return later. Examine this scroll to activate your deed.
 
HEIRLOOM  NO-VALUE
Effects:



Obtain:This item is a EQII Legends of Norrath Loot Card /claim reward.
Ad blocker interference detected!
Wikia is a free-to-use site that makes money from advertising. We have a modified experience for viewers using ad blockers

Wikia is not accessible if you've made further modifications. Remove the custom ad blocker rule(s) and the page will load as expected.