Ad blocker interference detected!
Wikia is a free-to-use site that makes money from advertising. We have a modified experience for viewers using ad blockers

Wikia is not accessible if you've made further modifications. Remove the custom ad blocker rule(s) and the page will load as expected.
In-Game Examine Window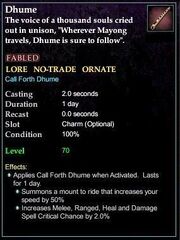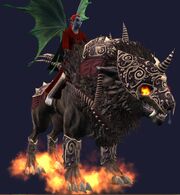 Dhume
The voices of a thousand souls cried out in unison, "Wherever Mayong travels, Dhume is sure to follow".

FABLED
LORE   NO-TRADE   ORNATE
Call Forth Dhume
 
Slot
Charm (Optional)
Level
70 (Tier 8)
 
Effects:


Applies Call Forth Dhume when activated. Lasts for 1 day.

Summons a mount to ride that increases your speed by 50%.
Increases Melee, Ranged, Heal and Damage Spell Critical Chance by 2.0%
Obtain: From the Exquisite Chest of Vampire Lord Mayong Mistmoore in Throne of New Tunaria.
\aITEM 956196451 -712178943:Dhume\/a \aITEM 956196451 -712178943:Dhume\/a
What does this information mean?
| | |
| --- | --- |
|  Casting Time |  2.0 seconds |
|  Recast time |  Instant |
|  Duration |  1 day |