In-Game Examine Window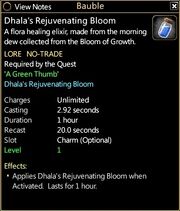 Dhala's Rejuvenating Bloom
A flora healing elixir, made from the morning dew collected from the Bloom of Growth.

LORE   NO-TRADE
Required by the Quest
'A Green Thumb'
 
Charges
Unlimited
Casting
2.92 seconds
Duration
1 hour
Recast
20.0 seconds
Slot
Charm (Optional)
Level
1 (Tier 1)
 
Effects:


Applies Dhala's Rejuvenating Bloom when Activated. Lasts for 1 hour.
Obtain: Received during or used in the quest 'A Green Thumb'
What does this information mean?