You may upload a JPG or PNG image of the in-game examine window.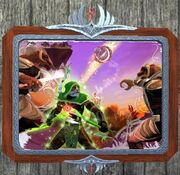 EverQuest II Item Information
Type: House Item
Subtype: Painting

Destroyer of Ordanach

This item can be placed in your house or guild hall.

This masterpiece is the work of Citadelli, kerra ranger, and won first prize in a recent painting competition. It is reproduced for sale using only the finest materials.

 
TREASURED
NO-TRADE
Rent Status
Reduction
100

Obtain: This item can be purchased from City Merchant vendors for

9g

 

76s

 

33c

55385 status
What does this information mean?
You may upload a JPG or PNG image of the in-game examine window.
Artist Note: A "higher" res version can be downloaded at http://coreldraw.com/media/p/51679.aspx
The picture was done quickly within a couple hours after a business flight. The wood elf bard behind my character was a special friend, Wreni from the Guk server, who used to play and was fighting breast cancer at the time. She made it through successfully!
2012 update, she did not make it...
Ad blocker interference detected!
Wikia is a free-to-use site that makes money from advertising. We have a modified experience for viewers using ad blockers

Wikia is not accessible if you've made further modifications. Remove the custom ad blocker rule(s) and the page will load as expected.