Ad blocker interference detected!
Wikia is a free-to-use site that makes money from advertising. We have a modified experience for viewers using ad blockers

Wikia is not accessible if you've made further modifications. Remove the custom ad blocker rule(s) and the page will load as expected.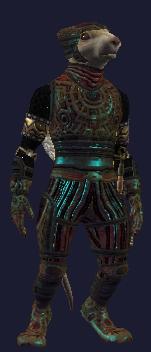 Armor Set: Desecrated
---
(2) Applies Focus: Bane of Warding V.
(4) Applies Focus: Harbinger VI.
(5) Applies Greater Ancestral Barrier

When target casts a healing spell this spell has a chance to cast Greater Ancestral Barrier on target of spell cast. Lasts for 30.0 seconds. This effect will trigger an average of 2.0 times per minute.

Wards target against 765 points of all damage
Replenishes 150 points of absorption every 5 seconds

(6) +10 Heal Crit Bonus

This armor may be worn only by: Defilers.
Drop Locations
Edit
This armor is dropped as follows:
Needed items
Edit
When you have all items needed for each armor piece, meet Bittee Silvertail at Dropship Landing Zone in Moors of Ykesha.