In-Game Examine Window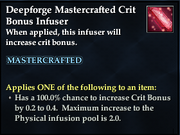 EverQuest II Item Information
Type: Infuser

Deepforge Mastercrafted Crit Bonus Infuser

When applied, this infuser has a chance to increase crit bonus.
 
 
MASTERCRAFTED
Effects:

Applies ONE of the following to an item:

Has a 100.0% chance to increase Crit Bonus by 0.2 to 0.4. Maximum increase to the Physical infusion pool is 2.0.

Obtain: Provisioner-crafted using a level 100 recipe from Deepforge Advanced Provisioner.
What does this information mean?