What does this information mean?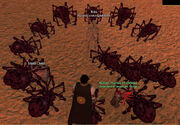 Drops in small chest, all NO-DROP items:
Deathsilk covered skeleton
Deathsilk covered zombie parts
Deathsilk covered zombie flesh
These monsters spawn in a swarm of 14 after placing the remains of Decaying Slough on the dirty table, as part of the progression through The Eternal Gorge. Collect the above no-drop parts and place them on the dirty table to advance the spawning of named monsters in the zone.