In-Game Examine Window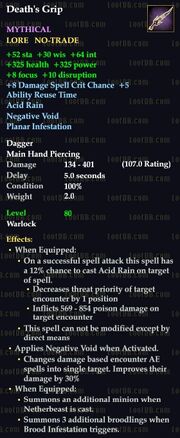 Death's Grip

MYTHICAL
LORE,  NO-TRADE

+30 wis

+64 int

+52 sta




+325 health

+325 power


+8 Focus +10 Disruption

8% Crit Chance

5% Ability Reuse Time
Negative Void
Acid Rain
Critical Mind
 
Dagger
Main Hand Piercing
Damage
134-401                  (107.0 Rating)
Delay
5.0 seconds
Level
80 (Tier 9)
Warlock
 
Effects:


Applies Negative Void when Activated.

Changes damage based encounter AE spells into single target. Improves their damage by 30%
The casting time of Negative Void is 4.90 seconds and the reuse time of the spell is 10.0 seconds

When Equipped:

On a damage spell hit this spell has a 12% chance to cast Acid Rain on target of spell.

Inflicts 547-821 poison damage on target encounter
Decreases threat priority of target encounter by 1 position
Cannot be modified except by direct means

Cannot be modified except by direct means

When Equipped:

Improves the critical damage of the warlock's professional spells by 10%.
Obtain: Reward from the quest "Kyrtoxxulous' Challenge."
\aITEM 17463714 -179706899:Death's Grip\/a \aITEM 17463714 -179706899:Death's Grip\/a
What does this information mean?
This item is a reward from one of the Epic Quests introduced with Game Update 42.
See the item's Obtain field for the particular quest that rewards this item.
Ad blocker interference detected!
Wikia is a free-to-use site that makes money from advertising. We have a modified experience for viewers using ad blockers

Wikia is not accessible if you've made further modifications. Remove the custom ad blocker rule(s) and the page will load as expected.