In-Game Examine Window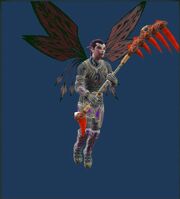 Dawnfear, the Reaper
It is rumored that this relic was originally constructed by an aquatic cult of Amygdalans, famous for their cerulean robes and chime-crafting skills. They met their end when attacked by some of their more warlike brethren who wished to steal their sacred chimes.

LEGENDARY
LORE   NO-TRADE

+25 str

+15 agi

+30 sta




+175 health

+100 power


+6 Slashing

2% Crit Chance

Bos Bovis Carillon
 
Great Axe
Two-Handed Slashing
Damage
94-281                  (93.8 Rating)
Delay
4.0 seconds
Level
70 (Tier 8)
Berserker, Guardian, Paladin, Shadowknight
 
Effects:


Applies Bos Bovis Carillon when Equipped.

You've gotta have more...
Obtain: From random monsters in Shard of Fear.
\aITEM -1115320850 1219695296:Dawnfear, the Reaper\/a \aITEM -1115320850 1219695296:Dawnfear, the Reaper\/a
What does this information mean?
Ad blocker interference detected!
Wikia is a free-to-use site that makes money from advertising. We have a modified experience for viewers using ad blockers

Wikia is not accessible if you've made further modifications. Remove the custom ad blocker rule(s) and the page will load as expected.