In-Game Examine Window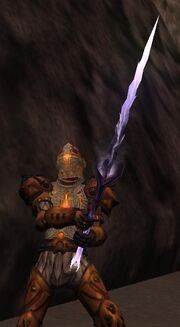 Darklight Soulripper

LEGENDARY
ATTUNEABLE  HEIRLOOM
    

+320 str

+320 sta



61% Multi Attack Chance
103.9% Crit Chance
19.1% Crit Bonus
19.1%  Potency
6.2%  Strikethrough
+291 Ability Modifier

Deathcall I
Egothief I
 
Great Sword
Two-Handed Slashing
Damage
289 - 1202                  (213.0 Rating)
Delay
7.0 seconds
Level
92 (Tier 10)
Berserker, Guardian, Paladin, Shadowknight
 
Effects:


When Equipped:

On a healing spell cast this spell may cast Deathcall I on caster. Lasts for 8.0 seconds. Triggers about 2.0 times per minute.

Increases Crit Bonus of caster by 12.0%
Must not be engaged in pvp combat

On any combat or spell hit this spell may cast Egothief I on target of attack. Triggers about 2.0 times per minute.

Inflicts 4843 - 5352 poison damage on target
Heals caster for 2421 - 2676
Must not be engaged in pvp combat
Cannot be modified except by direct means

itemlink=

Obtain: From the Ornate Chest of Krelgrek Bone-Chair in Wurmbone Crag (Advanced Solo).
What does this information mean?
Dropped with two yellow gems already slotted.
Ad blocker interference detected!
Wikia is a free-to-use site that makes money from advertising. We have a modified experience for viewers using ad blockers

Wikia is not accessible if you've made further modifications. Remove the custom ad blocker rule(s) and the page will load as expected.