Ad blocker interference detected!
Wikia is a free-to-use site that makes money from advertising. We have a modified experience for viewers using ad blockers

Wikia is not accessible if you've made further modifications. Remove the custom ad blocker rule(s) and the page will load as expected.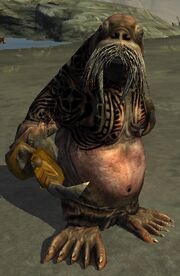 .
Description
Edit
Dar Qal is an ulthork from the north of Cobalt Scar. He is a being of few words and even fewer manners. He practices the inquisitor ways of the Bristlemouth clan.
Abilities / Spells
Edit
Fanaticism IV (Master)
Sacred Armor VII (Master)
Fanatic's Faith VI (Master)
Tenacity VII (Master)
Condemn VIII (Master)
Hammer Divine Smite III (Master)
Fanatical Healing VIII (Master)
Penance VIII (Master)
Malevolent Diatribe VII (Master)
Alleviation VII (Master)
Cure
Resolute Flagellant III (Master)
Conversion of the Soul
Verdict (Master)