In-Game Examine Window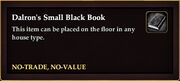 EverQuest II Item Information
\aITEM -1763874757 607116155:Dalron's Small Black Book\/a \aITEM -1763874757 607116155:Dalron's Small Black Book\/a
What does this information mean?

See also: Erollisi Day
Book Text
Dalron's Small Black Book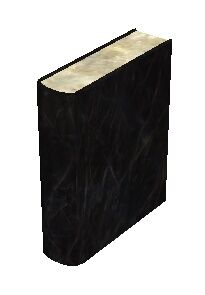 | | |
| --- | --- |
| Author: | Dalron Pinot |
| Style: | Small Black Book |
| Pages: | 4 |
| LootDB Link: | LootDB |
Making the One You Love Love You
Written by: Dalron Pinot
This book is dedicated to all the ladies I've loved, who have loved me back.
Your eyes are so beautiful they must be prismatic.
I'd cross Lavastorm for you.
The gods must have returned to Norrath, because you are a gift from Erollisi.
I'd reassemble the Shattered Lands for you.
Will you be my heritage quest?
Hey baby, do you speak Tik Toc? Because we really click.
Was your father a Vah'Shir? Because he stole the shards of Luclin and put them in your eyes.
You must be a coercer, because you've charmed me.
Cazic help me, I fear I'm in love!
I must look like Lucan, because you've got my eye.
Grr. Bark. Bark. Grr. Bark. That means "I love you" in Gnoll.
Your father must be a Ranger cause he sure brought home a fox.
EQ2i credits this article at Census for the info in this article.
the last update on Census for this item was:
Tue, 18 Jul 2017 14:51:06 +0000
Ad blocker interference detected!
Wikia is a free-to-use site that makes money from advertising. We have a modified experience for viewers using ad blockers

Wikia is not accessible if you've made further modifications. Remove the custom ad blocker rule(s) and the page will load as expected.