The items you can purchase from the Loyalty Merchants are found on this page
The Announcement
Edit
NEW DAILY OBJECTIVE SYSTEM You can now earn a 'Loyalty Point Token' each day by completing two of several daily tasks. Look in your journal under the new 'Daily Objectives' tab for more information on current tasks. Special merchants in Freeport and Qeynos will accept these tokens in trade for unique items.(Link to announcement[1])
The System
Edit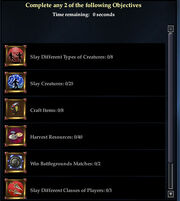 Implemented on July 23, 2013 with GU67, the daily objective system offers players the opportunity to complete daily tasks and earn Loyalty Point Tokens. As the name of the system implies, you can only complete the daily objective once per day to earn loyalty points tokens.
To earn a loyalty point token, you must complete only 2 daily tasks from a list of 8 tasks the game randomly generates each day. There are a total of 12 tasks in game currently, so you will see some of the same tasks each day.
If you are trying to accomplish the daily tasks with a group of people, the 8 random tasks assigned each day are different from one account to another.
You can play as you normally would and potentially complete the tasks offered or you can open the Journal by pressing J and check to see which tasks are offered that day to focus on choosing any 2 on the list to complete.
When you complete one of the tasks, it will look like it is crossed out in the Daily Objectives tab in your journal. When both tasks are complete and you have successfully completed the Daily Objectives, an announcement will appear on your screen, accompanied by the sounds of horns heralding your reward.
When you have completed the Daily Objectives, the timer at the top of the journal tab with the tasks list will reset, letting you know how long you must wait to repeat the process and get more Loyalty Points Tokens.
The tokens are account-wide, which means that you can complete the daily objective on any character (or any two characters) on a single account each day. For this reason, you'll see the tokens in the currency tab of of your character sheets and any character you have on one account can also spend the tokens; this eliminates the need to transfer this currency between different characters using a bank.
Loyalty point tokens can be used to purchase items from a Loyalty Merchant in Qeynos or East Freeport. There are two different merchants to visit, each offers a variety of items. For details, see the Merchants section below.
| | |
| --- | --- |
| | Tip:  Gold Members now get double tokens for completing the Daily Objectives. |
The Daily Tasks
Edit
Here are the tasks that are currently in game. Some actions you take may count toward multiple daily tasks. Like killing a named monster would count toward the "Slay Boss Creature" and "Slay Creatures" total.
| Task | Notes |
| --- | --- |
| Visit Unexplored Locations: 0/3 | A Point of Interest you have not previously visited. You must gain experience for it to count as an "unexplored location". |
| Slay Creatures: 0/25 | Any green-con or better creatures. (Boss kills count for this as well) |
| Slay Different Types of Creatures: 0/8 | Different types of creature as in bat family or goblin family. |
| Slay Boss Creatures: 0/2 | Most green-con named monsters. See the talk page. |
| Craft Items: 0/8 | Create any item using any tradeskill (Adorning and Tinkering included). It can be the same item crafted 8 times. Does not have to give exp. The Daily Adorning Task can be a quick and easy way to accomplish this task. |
| Craft Writs: 0/2 | Items created for writs count for the "Craft Items" objective also |
| Craft Different Items: 0/3 | Craft 3 different items types. IE. one sword, one shield, one dagger. As long as the item has a different name in game it will count as a different item. |
| Harvest Resources: 0/40 | Counts actual number of resources gathered. Any tier harvesting node works. |
| Win Battlegrounds Matches: 0/2 | [information needed] |
| Complete Battlegrounds Matches: 0/3 | [information needed] |
| Slay Different Classes of Players: 0/3 | Defeat players from different classes. IE one Inquisitor, one Conjuror, one Beastlord |
| Slay Players: 0/5 | Kill any five players. (Does killing the same player twice count?) |
The Merchants
Edit
Loyalty Merchants are where you spend your hard earned loyalty point tokens for powerful rewards. However, they refuse to sell their wares to just anybody. Certain items are restricted to Gold Account subscribers only, most notably the bag of 500 platinum coins. If an item is restricted it will be noted on the tables below. The merchants are currently only located in East Freeport and Qeynos Harbor. They share the same name in both cities.
Rewards may change over time; for example, new items were added in late December 2014, and in November 2015 the platinum bags were increased from 75p to 500p.
Loyalty Merchants
Edit
These merchants sell items such as past Veteran Rewards, armor , weapons, previous expansion rewards, potions, and much more! The items are the same in both cities and you must visit the city appropriate to your alignment as "good" (Qeynos) and "evil" (Freeport).
Name
Location
Noble Toowik Mclure (Qeynos)
( 902, -25, 49 ) 

/waypoint 902, -25, 49

near the broker in Qeynos Harbor
Noble Toowik Mclure (Freeport)
( -225, -56, 88 ) 

/waypoint -224.84, -55.71, 88.02

The City of Freeport under the giant tent (Harbor Exchange) by the dock.
Noble Tark Validus (Qeynos)
( 902, -25, 49 ) 

/waypoint 902, -25, 49

near the broker in Qeynos Harbor
Noble Tark Validus (Freeport)
( -225, -56, 88 ) 

/waypoint -224.84, -55.71, 88.02

The City of Freeport under the giant tent (Harbor Exchange) by the dock.
Noble Tark Validus sells a select variety of Veteran Rewards, previous expansion rewards, furniture, potions, novelties, and various other items. Many of these items can be placed inside of player housing. While in-game, hold down CTRL on your keyboard and L click to see a preview most of these items in the "dressing room". In some cases, items may need to be opened in an examine window prior to using the game's dressing room feature.
The table below can be sorted. Simply click the column heading to reorder the items by cost, item type, etc. Click links for additional information on the items or their uses.
Item Name
Purchase cost
Description (what it does)
Other Means to Obtain
Item Type
a basic firework
1 LPT
Receive a simple firework with unlimited charges.
3 month veteran reward)
Charm
a black pet monkey
15 LPT
Receive monkey as a house pet.
from the Desert of Flames expansion
House pet
a blood-written contract
30 LPT
A Prestige House deed for the Mistmoore Crags Estate.
7 year veteran reward
Player Housing
a blue carnivorous plant
15 LPT
Receive a plant as a house pet.
from the Kingdom of Sky expansion)
House pet
a brown pet monkey
15 LPT
Receive monkey as a house pet.
from the Desert of Flames expansion
House pet
a crimson pet monkey
15 LPT
Receive monkey as a house pet.
from the Desert of Flames expansion
House pet
A Dark Tamed Cockatrice
15 LPT
Receive cockatrice as a house pet.
from the Rise of Kunark expansion
House pet
a gold pet monkey
15 LPT
Receive monkey as a house pet.
from the Desert of Flames expansion
House pet
a pet monkey
15 LPT
Receive monkey as a house pet.
from the Desert of Flames expansion
House pet
a red carnivorous plant
15 LPT
A pet plant that eats junk loot and gives you collection "shinies".
from the Kingdom of Sky expansion
House pet
a sandy brown pet monkey
15 LPT
Receive monkey as a house pet.
from the Desert of Flames expansion
House pet
a silver pet monkey
15 LPT
Receive monkey as a house pet.
from the Desert of Flames expansion
House pet
a small bag of platinum coins
5 LPT
Receive 500 platinum coins upon using. Item disappears upon use. Restricted to players with a paid subscription
N/A
common world currency
A Tamed Cockatrice
15 LPT
Receive cockatrice as a house pet.
from the Rise of Kunark expansion)
House pet
a tan pet monkey
15 LPT
Receive monkey as a house pet.
from the Desert of Flames expansion
House pet
a vibrant carnivorous plant
15 LPT
A pet plant that eats junk loot and gives you collection "shinies"
from the Kingdom of Sky expansion
House pet
a white pet monkey
15 LPT
Receive monkey as a house pet.
from the Desert of Flames expansion
House pet
a fancy firework
4 LPT
Receive a nicer firework with unlimited charges.
18 month veteran reward
Charm
an heirloom painting
3 LPT
Choose one of several paintings based on the original Everquest game; to compare options, follow the link on the left
Gift to those who had an EQ account
House item
Bag of Endless Adventure
1 LPT
12 slot bag.
1 day veteran reward
Inventory bag
Basic Prismatic Adornment Dislodger
5 LPT
Destroys target item and lets you choose one of the items adornments to keep.
N/A
Adornment dislodger
Box of Endless Loyalty
7 LPT
52 slot box
N/A
Inventory box
Destiny Accessory Bag
3 LPT
appearance slot cloak and hood in dark a gray and black color scheme.
veteran's reward
Appearance gear
Disc of Blades
25 LPT
a disc-shaped mount that hovers above the ground (not a flying mount)
veteran's reward
Mount
Disc of Dreadful Omens
25 LPT
a disc-shaped mount that hovers above the ground (not a flying mount)
veteran's reward
Mount
Disc of Harmonious Melodies
25 LPT
a disc-shaped mount that hovers above the ground (not a flying mount)
veteran's reward
Mount
Disc of Harnessed Light
25 LPT
a disc-shaped mount that hovers above the ground (not a flying mount)
veteran's reward
Mount
Draught of the Wise
10 LPT
Receive 6 experience potions that increase your experience gain by 77% for 45 minutes.
6 month veteran reward
XP potion
Fate Accessory Bag
5 LPT
Receive a Shroud of Fate and a Hood of Fate.
6 year veteran reward
Appearance Gear
Forgiveness Potion
5 LPT
Repairs broken equipment removes experience debt
 ?
XP debt removal potion and gear repair kit
Goblin Games Ticket
5 LPT
This item was removed in 2014, but players who still have Goblin Gold can spend it via the Marketplace.
N/A
N/A
Hammer of Adept Hands
10 LPT
Fill up Tradeskill Vitality Completely. Unlimited Charges/can be used only once per seven days.
6 year veteran reward
Charm
Luxurious Kromzek Keep Deed of Ownership
60 LPT
A deed for an enormous Prestige House
Rare looted item
Player Housing
Marble Effigy of Al'Kabor
25 LPT
Receive a statue to place in your house or guild hall.
Promotion offered to returning customers in December of 2009.
House item
Mystery Chest of Heroic Deeds
2 LPT
please add info here and remove this note
N/A
Various
Mystery Chest of Legendary Deeds
5 LPT
please add info here and remove this note
N/A
Various
Mystic Moppet Billy
5 LPT
Receive an item which shrinks the character and grants the illusion of being a mystic moppet voodoo doll.
4 year veteran reward
Charm
Orb of Concentrated Memories
10 LPT
Fill up Adventure Vitality Completely. Unlimited Charges.
5 year veteran reward
Charm
Painting: Reminiscence
5 LPT
A painting that can be added to your character's house.
 ?
House item
Pirate flag
1 LPT
Receive a wall mounted house item resembling a pirate flag.
18 month veterans reward
House item
Pixie on a String
2 LPT
Receive an item that will summon a pixie that is attached to your shoulder by a string.
5 year veteran reward
Appearance gear charm
Shave and a Cut
1 LPT
Receive an item that allows you to change your character's appearance.
Also available from Barber merchants for

1g

 

20s

Single-use trinket
Superb Prismatic Adornment Dislodger
15 LPT
Receive an item that will allow you to remove 1 adornment from an adorned piece of equipment, without destroying the adorned piece of equipment.
N/A
Adornment dislodger
The 5-Year Firework
3 LPT
Receive an even nicer firework with unlimited charges.
5 year veteran reward
Charm
Treasure Hoard
10 LPT
Receive a housing item that resembles a treasure chest that can be opened and closed. It grants 25% reduction in house upkeep cost of any Standard Housing (that requires coin upkeep) it is placed in
4 year veteran reward
House item
Veteran's Elemental Mount
50 LPT
Receive an item that can be used 1 time to receive 1 of 4 possible elemental based disk shaped flying mounts.
8 year veteran reward
Mount
Vision of the Thullosian
4 LPT
an unlimited charm that makes your character's eyes glow bright green
Veterans reward
Appearance gear charm
Weapon Rack
1 LPT
a house decor item that resembles a rack of weapons at the ready
Veterans reward
House item
Your future tomb stone
1 LPT
Receive a house item that resembles a blank tombstone
Veterans reward
House item
Betrayal Token
50 LPT
Any easier means of starting/completing the Betrayal Timeline and switching your character's alignment from good to evil or vice versa
N/A
Single-use trinket
A model griffon tower
1 LPT
A tiny model of the griffon towers used to travel in Norrath zones like Nektolos Forest.
Identical to an item from a prior world event
House item
Black Granite Druid Ring
1 LPT
A model of the druid rings used to travel in Norrath zones like Nektolos Forest.
Identical to an item from a prior world event
House item
Dark Verdant Druid Ring
1 LPT
A model of the druid rings used to travel in Norrath zones like Nektolos Forest.
Identical to an item from a prior world event
House item
Fires of tranquility
1 LPT
A pit of blue coals with a swirling glow that can be placed in a house.
Identical to an item from a prior world event
House item
Gray Granite Druid Ring
1 LPT
A model of the druid rings used to travel in Norrath zones like Nektolos Forest.
Identical to an item from a prior world event
House item
White Granite Druid Ring
1 LPT
A model of the druid rings used to travel in Norrath zones like Nektolos Forest.
Identical to an item from a prior world event
House item
Authentic Cooking Pot from The Vigilant
2 LPT
A shiny pot of water for the stove in your house.
Identical to a quest reward
House item
Berry Good Woven Basket
2 LPT
A basket of berries that can be placed in a house
Identical to an item from a prior world event. Similar items can be purchased during all City Festival from merchant, Sanya Farshore
House item
Chair of the Acorn Scholar
2 LPT
An acorn themed chair that can be placed in a house
Identical to an item from a prior world event. Similar items can be purchased during the Kelethin City Festival merchant, Chris Weathers
House item
Cup of the Desert Nomad
2 LPT
An unglazed cup for your house.
Identical to an item from a prior world event
House item
Cushion of the Crimson Heart
2 LPT
A bright rose colored round cushion for your house.
Identical to an item from a prior world event
House item
Cylinder of Growth
2 LPT
A cylinder with bright purple contents for your house.
Identical to an item from a prior world event
House item
Desert Palace Chair
2 LPT
A simple stool for your house.
Identical to an item from a prior world event
House item
Desert Rose Cushion
2 LPT
A dark rose colored round cushion for your house.
Identical to an item from a prior world event
House item
Desert Scarab
2 LPT
A beetle's lifeless carapace for your house.
Identical to an item from a prior world event
House item
Fresh Cantelopes
2 LPT
A plate of luscious fruit for your house.
Identical to a quest reward
House item
Fresh Fruit Assortment
2 LPT
A plate of luscious fruit for your house.
Identical to a quest reward
House item
Fresh Oranges
2 LPT
A plate of luscious fruit for your house.
Identical to a quest reward
House item
Fresh Oranges and Limes
2 LPT
A plate of luscious fruit for your house.
Identical to a quest reward
House item
Glittering Temptation
2 LPT
A sparkle that will tempt visitors to try to pick a shiny up in your house.
Identical to an item from a prior world event
House item
Jug of the Desert Nomad
2 LPT
An unglazed jug for your house.
Identical to an item from a prior world event
House item
Nightbloom Berries
2 LPT
A gourd filled with berries that can be placed in a house.
Identical to an item from a prior world event. Similar items can be purchased during the Kelethin City Festival merchant, Chris Weathers
House item
Ornate Bench of the Sands
2 LPT
An unglazed bench for your house.
Identical to an item from a prior world event
House item
Quill of a Maj'dul Poet
2 LPT
A feather quill for the desk in your house.
Identical to an item from a prior world event
House item
Roasted Apple in a Cinnamon Glaze
2 LPT
A plate of luscious fruit for your house
Identical to a quest reward
House item
Seat of the Maj'dul Poet
2 LPT
A simple stool for your house (this version has a white seat)
Identical to an item from a prior world event
House item
Silk Cushion of the Desert Bloom
2 LPT
A vibrant blue and yellow cushion for your house
Identical to an item from a prior world event
House item
Noble Toowik Mclure sells a variety of level 92 / 93 armor and weapons as well as, a few level 1 items with low stats, to use in appearance slots