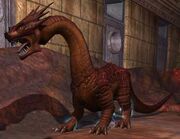 .
What does this information mean?
This fight can be boiled down to Cure Curse. If you do not have a healer in your group with cure curse do not even attempt this fight. Note Mercs DO NOT have cure curse.
The mechanic is as follows fight starts all group members get cursed if the curse is not cured the member with the highest hate will be charmed. This charm stuns the character that is charmed rendering them unable to cure themselves so healers must self cure first. At certain intervals I believe we noted them at around 75%, 50%, and 25% three mud globes will spawn. They were quick kills so we just knocked them out when they spawned and went back to the boss. Relatively easy fight if you have remove curse if you don't you cannot beat this boss without major major headaches.