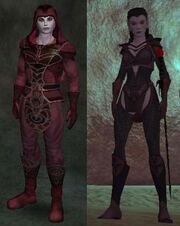 .
What does this information mean?
At 10%, he says Forces of Darkness... in Thexian. Stun him with your enchanter and burn him down. If you don't stun him, he uses an AOE. If he hits anyone with this AOE, he will heal himself. You can also use AOE immunity.
Ad blocker interference detected!
Wikia is a free-to-use site that makes money from advertising. We have a modified experience for viewers using ad blockers

Wikia is not accessible if you've made further modifications. Remove the custom ad blocker rule(s) and the page will load as expected.