In-Game Examine Window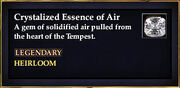 EverQuest II Item Information
\aITEM 174995534 1491236329:Crystallized Essence of Air\/a \aITEM 174995534 1491236329:Crystallized Essence of Air\/a
What does this information mean?
Used to for Unadorned Steel Circlet which can be purchased from Edric Fyrecog on the docks of Lavastorm. The cost is 2 shards.
about the Steel Circlet
Edit
If you examine it you get a box that says, "This finely wrought circlet bears ten empty sockets that must once have held sizable gems. A tingle in the metal hits of enormous elemental energies that will be released should those sockets be filled."
Choices under it say "But which gems should one use?", "insert the gems into the sockets", and "Release the circlet".
If you click on the first option, you get the following message: "As soon as you even begin to formulate the query in your head, a wave of foreign consciousness invades you. Your brain feelsfit to burst as the entity attempts to occupy a space too small to house it. The sensation is brief but skull splitting, and as the entity leaves you, you are suddenly aware of what the circlet desires.
You must fill the sockets around the edges with the following:
So, you need:
| Class | Air | Water | Fire | Earth |
| --- | --- | --- | --- | --- |
| Wizard | 3 | 4 | 2 | 1 |
| Warlock | 4 | 3 | 2 | 1 |
| Conjuror | 2 | 1 | 4 | 3 |
| Necromancer | 2 | 1 | 3 | 4 |
| Illusionist | 2 | 3 | 2 | 3 |
| Coercer | 2 | 3 | 2 | 3 |
These gems drop from the named mobs in Ward of Elements.
The circlet can then be combined with a TSO Tier 3 helmet to make a more powerful item. To get the helm, you will need to loot the mold for your subclass from one of:
They will all drop from Khost Alur. After looting the mold, you can purchase a pattern from Assilus Poisonbolt at the docks in Lavastorm for the mold and some shards. You can then purchase your tier 3 helmet from Borden Chargehammer for the pattern and your corresponding greater void shard helm.
EQ2i credits this article at Census for the info in this article.
the last update on Census for this item was:
Tue, 18 Jul 2017 14:46:52 +0000
Ad blocker interference detected!
Wikia is a free-to-use site that makes money from advertising. We have a modified experience for viewers using ad blockers

Wikia is not accessible if you've made further modifications. Remove the custom ad blocker rule(s) and the page will load as expected.