What does this information mean?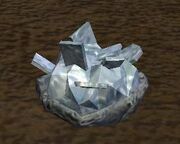 Gather six types of crystals. (Red, Orange, Blue, Black, White, Green)

They are found on the ground in the valley between the first and second barricades (Defiled Forest) ( -440, -29, -70 ) 

/waypoint -440, -29, -70

and ( -510, -29, -230 ) 

/waypoint -510, -29, -230

Each section of this valley spawns a different type of crystal and they all look the same unless highlighted. To avoid confusion, just pick them all.

Return to Birchbark Oakleaf
At least 1g 59s 57c
Ad blocker interference detected!
Wikia is a free-to-use site that makes money from advertising. We have a modified experience for viewers using ad blockers

Wikia is not accessible if you've made further modifications. Remove the custom ad blocker rule(s) and the page will load as expected.