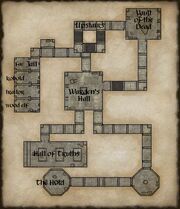 EverQuest II Zone Information
What does this information mean?
Also abbreviated CBK.
Quests: See Crushbone Keep Timeline.
For a list of possible Expert "blue shiny" spawn points for this zone, see this list.

The fortress home of countless orcs, Crushbone Keep provides adventure and excitement to lvl 20+ players.
Max Chrono-mentor is level 30 to ensure all mobs are not gray.
There is a connecting instance The D'Vinnian Throne at the end of the zone. See instances page for more info.
Ad blocker interference detected!
Wikia is a free-to-use site that makes money from advertising. We have a modified experience for viewers using ad blockers

Wikia is not accessible if you've made further modifications. Remove the custom ad blocker rule(s) and the page will load as expected.