In-Game Examine Window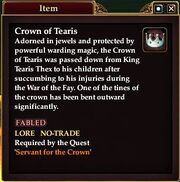 EverQuest II Item Information
Type: Quest Item

Crown of Tearis

Adorned in jewels and protected by powerful warding magic, the Crown of Tearis was passed down from King Tearis Thex to his children after succumbing to his injuries during the War of the Fay. One of the tines of the crown has been bent outward significantly.
 
FABLED
LORE  NO-TRADE  NO-VALUE
Required by the Quest
'Servant for the Crown'

Obtain: From Ravenscale Protectorate in Ravenscale Repository.
\aITEM -1255008376 1498945807:Crown of Tearis\/a \aITEM -1255008376 1498945807:Crown of Tearis\/a
What does this information mean?
EQ2i credits this article at Census for the info in this article.
the last update on Census for this item was:
Tue, 18 Jul 2017 14:50:43 +0000
Ad blocker interference detected!
Wikia is a free-to-use site that makes money from advertising. We have a modified experience for viewers using ad blockers

Wikia is not accessible if you've made further modifications. Remove the custom ad blocker rule(s) and the page will load as expected.