What does this information mean?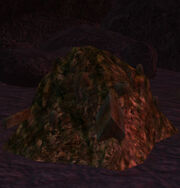 Sift through rubbish piles for armor. Rubbish piles are in the region of ( -247, -130, 350 ) 

/waypoint -247, -130, 350

. Clear rubbish pile away and, if you're lucky, a piece of armour will lie underneath.

Collect 3 pieces of armor from the rubbish piles.

Return to Purrla
See also Lavastorm Timeline which also list this quests.