What does this information mean?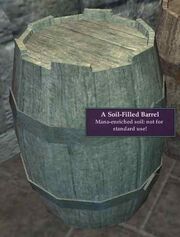 Collect Green Wisp Seeds from the bushes near the Fountain of Valor, in the center of Castleview Hamlet ( 769, -18, -111 ) 

/waypoint 769, -18, -111

.
Collect Blessed Water from the fountain, by examining the water flask near the fountain.
Gather soil from the barrel at the NE corner of the armor shop.
Return to Vindain Greenfaith.
Gardener's Pouch (5 slot, lore, no trade, no value bag) 1 silver, 17 copper