The parameter "slots" of the ItemInformation is used for how many slots does this bag or box have? Use ONLY if this item is of type: Container.
Please use the EquipInformation template (or the charm preload), when an item shows "Charm (Optional)" as slot.
In-Game Examine Window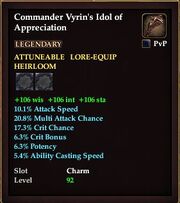 EverQuest II Item Information
Commander Vyrin's Idol of Appreciation

 
 
LEGENDARY
ATTUNEABLE  LORE-EQUIP  HEIRLOOM
Level
92 (Tier 10)
Slots
Charm
Effects:

+106 wis +106 int +106 sta
10.1% Attack Speed
20.8% Multi Attack Chance
17.3% Crit Chance
6.3% Crit Bonus
6.3% Potency
5.4% Ability Casting Speed
Obtain: Reward in Skyshrine: The Underdepths from The Path of the Crusaders
What does this information mean?
Ad blocker interference detected!
Wikia is a free-to-use site that makes money from advertising. We have a modified experience for viewers using ad blockers

Wikia is not accessible if you've made further modifications. Remove the custom ad blocker rule(s) and the page will load as expected.