What does this information mean?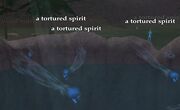 Fish 5 tortured spirits from the Wellspring of Nightmares using the Spiritist's Fishing Pole

You must equip the Spiritist's Fishing Pole in your primary slot to be able to target the tortured spirits. Then, just target a spirit and use your Fishing skill. Don't forget to re-equip your primary weapon when you've finished!

Return to Atalika in the Shadow Oak ( 441, -23, -268 ) 

/waypoint 441, -23, -268
At least

21s

 

31c

(Lvl 55)
Ad blocker interference detected!
Wikia is a free-to-use site that makes money from advertising. We have a modified experience for viewers using ad blockers

Wikia is not accessible if you've made further modifications. Remove the custom ad blocker rule(s) and the page will load as expected.