In-Game Examine Window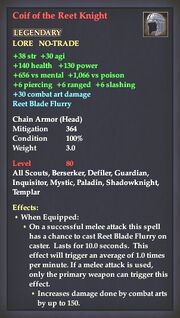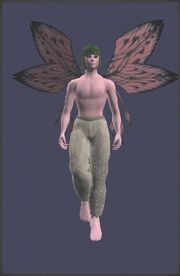 Coif of the Reet Knight

LEGENDARY
LORE   NO-TRADE

+38 str

+30 agi




+140 health


+1,066 vs noxious +656 vs arcane
+6 Piercing +6 Ranged +6 Slashing


+30 combat art damage

Reet Blade Flurry
 
Chain Armor (Head)
Mitigation
364
Level
80 (Tier 9)
All Scouts, Berserker, Guardian, Paladin, Shadowknight, Inquisitor, Templar, Defiler, Mystic
 
Effects:


When Equipped:

On a successful attack this spell has a chance to cast Reet Blade Flurry on caster. Lasts for 10.0 seconds. This effect will trigger an average of 1.0 times per minute. If a melee attack is used, only the primary weapon can trigger this effect.

Increases damage done by combat arts by up to 150.
Obtain: Reward from the collection quest, Reet Knight Armor.
What does this information mean?