Introduced with Game Update 55, this series is solo/heroic, and carries the player through all major Kingdom of Sky zones. It will also reward you with a full class-specific armor set, piece by piece.
To start this timeline, Speak to Bilgeron Cogsworth IV in Tenebrous Tangle on the Temple Grounds ( 50, 22, 193 )
(recommended level in brackets)
For the slightly more daring adventurers, you can actually pick up the first quest at Level 55.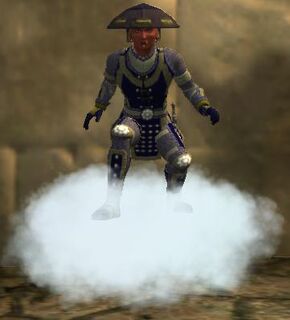 Cogs on the Droags (57)
To the Isle of Fear (59)
An Eye on the Clue (60)
The Bees Sees (61)
Follow the Bot (62)
To the Barren Sky (63)
Armor Set
Class specific armor set that you get through the quest timeline:
Mount
Final quest rewards a mount:
Ad blocker interference detected!
Wikia is a free-to-use site that makes money from advertising. We have a modified experience for viewers using ad blockers

Wikia is not accessible if you've made further modifications. Remove the custom ad blocker rule(s) and the page will load as expected.