In-Game Examine Window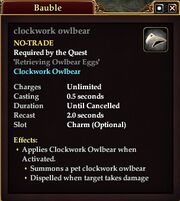 Clockwork owlbear

NO-TRADE
Required by the Quest
'Retrieving Owlbear Eggs'
Clockwork Owlbear
 
Charges
Unlimited
Casting
0.5
Duration
Until Cancelled
Recast
2.0
Slot
Charm (Optional)
Level
1 (Tier 1)
 
Effects:


Applies Clockwork Owlbear when activated.

Summons a pet clockwork owlbear.
Dispelled when target takes damage.
Obtain: Received during the quest Retrieving Owlbear Eggs
What does this information mean?