You may upload a JPG or PNG image of the in-game examine window.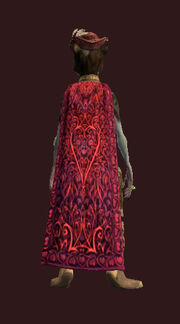 Cloak of the Beloved


TREASURED
ATTUNABLE  HEIRLOOM  NO-VALUE
 
Beloved Hearts
Featherfall
 
Slot
Cloak
Level
1 (Tier 1)
 
Effects:


Applies Beloved Hearts when Activated.

Summons a pet heart
The casting time of Beloved Hearts is 1.0 second and the reuse time of the spell is 2.0 seconds

When Equipped:

Reduces maximum falling speed of caster
Obtain: Purchased through the 'EQ2 Marketplace' for

500 DBC
\aITEM -325903845 -376037289:Cloak of the Beloved\/a \aITEM -325903845 -376037289:Cloak of the Beloved\/a
What does this information mean?
This is a Marketplace cloak, purchased with Daybreak Cash (DB).
This cloak is (usually) only available during Erollisi Day
Like other level one gear, this item can be placed in the appearance slot, over any cloak granting you other stats, but the effects are only useful when equipped in the main gear slot.
EQ2i credits this article at Census for the info in this article.
the last update on Census for this item was:
Tue, 18 Jul 2017 14:53:58 +0000
Ad blocker interference detected!
Wikia is a free-to-use site that makes money from advertising. We have a modified experience for viewers using ad blockers

Wikia is not accessible if you've made further modifications. Remove the custom ad blocker rule(s) and the page will load as expected.