Ad blocker interference detected!
Wikia is a free-to-use site that makes money from advertising. We have a modified experience for viewers using ad blockers

Wikia is not accessible if you've made further modifications. Remove the custom ad blocker rule(s) and the page will load as expected.
In-Game Examine Window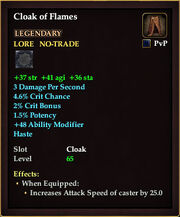 Cloak of Flames
This is the cloak of the mythical Fourth Warrior, known to some as "Fireknight."
This cloak will not display your guild heraldry.

LEGENDARY
LORE   NO-TRADE

+25 str

+10 wis

+10 int

+15 sta




+75 health

+75 power


+805 vs elemental

+20 Ability Modifier

Haste
 
Slot
Cloak
Level
65 (Tier 7)
 
Effects:


When Equipped:

Increases Attack Speed of caster by 25
Obtain: This item is a quest reward for completing the heritage quest series, Cloak of Flames
\aITEM 264598753 1047335969:Cloak of Flames\/a \aITEM 264598753 1047335969:Cloak of Flames\/a
What does this information mean?