In-Game Examine Window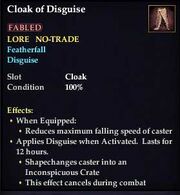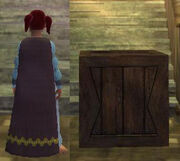 Cloak of Disguise

FABLED
NO-TRADE  NO-VALUE
Featherfall
Disguise
 
Slot
Cloak
Level
1 (Tier 1)
 
Effects:


When Equipped:

Reduces maximum falling speed of the caster.

Applies Disguise when activated. Last for 12 hours.

Shapechanges caster into an Inconspicuous Crate
This effect cancels during combat.
Obtain:This item is a EQII Legends of Norrath Loot Card /claim reward.
What does this information mean?