What does this information mean?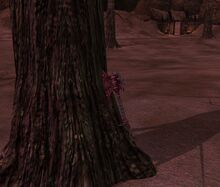 The Scourge continue to resupply themselves undeterred. I can be that deterrent. Killing as many of their clearcutters and destroying their axes should do the trick. There's even a convenient means of dissolving their axes nearby...
Note: This is a 6 minute timed quest.
Found in all versions of Zek, the Scourge Wastes:
Kill clearcutters and loot 20 axes from their corpses.
Put the axes in acid to destroy them by clicking on the tree stump ( -450, -35, 85 ) 

/waypoint -450, -35.42, 85
Ad blocker interference detected!
Wikia is a free-to-use site that makes money from advertising. We have a modified experience for viewers using ad blockers

Wikia is not accessible if you've made further modifications. Remove the custom ad blocker rule(s) and the page will load as expected.