Ad blocker interference detected!
Wikia is a free-to-use site that makes money from advertising. We have a modified experience for viewers using ad blockers

Wikia is not accessible if you've made further modifications. Remove the custom ad blocker rule(s) and the page will load as expected.
What does this information mean?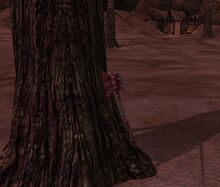 The Scourge continue to resupply themselves undeterred. I can be that deterrent. Killing as many of their clearcutters and destroying their axes should do the trick. There's even a convenient means of dissolving their axes nearby...
Note: This is a 6 minute timed quest.
Found in all versions of Zek, the Scourge Wastes:
Kill clearcutters and loot 20 axes from their corpses.
Put the axes in acid to destroy them by clicking on the tree stump ( -450, -35, 85 ) 

/waypoint -450, -35.42, 85