Ad blocker interference detected!
Wikia is a free-to-use site that makes money from advertising. We have a modified experience for viewers using ad blockers

Wikia is not accessible if you've made further modifications. Remove the custom ad blocker rule(s) and the page will load as expected.
For other articles with related titles, see Cleansing of the Cove.

What does this information mean?
One of the better and larger solo instances, and one of the few that respawn. Creatures are level 36-38. Has an event at the end containing mobs of level 38-39, with a final fight against a level 40 boss, who drops guaranteed loot.
While the overall map is the same as the The Trembling Lagoon, impassable rocks have been added to turn the zone into something of a labyrinth, with a very specific progression.
There is one spot where you can climb over the wall to reach the Lagoon. This is in the altar area, at the far side of the wall from where you came in. Jump up the boulders and you can get to the other side. However, IF you jump down to the beach there is no way back short of calling home or using an evac or other portal.
If you use Escape inside the instance you will be transported back out to The Feerrott.
Access Quest
Edit
Complete Cleansing of the Cove (Quest) quest given by Mashara or Tarin to earn access. See the Feerrott Timeline.
Qeynos-aligned characters must enter through the door to The Trembling Lagoon. Zone-in is not available if anyone in your party is over 50th level.
Monsters
Edit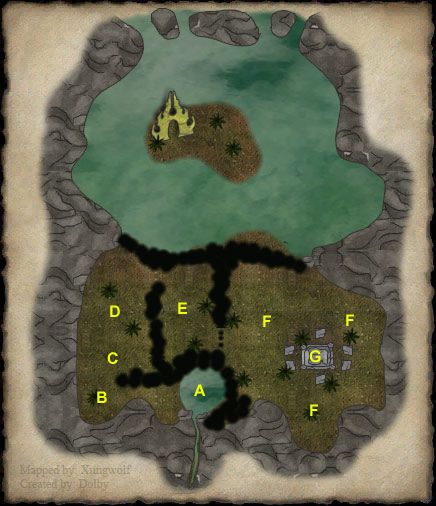 These are the monsters for the zone when you do it to complete the access quest. Some may be different on subsequent visits.
Every single mob in this zone is Aggressive, though none of them appear to be Social.
Monsters in this zone do not respawn.
For some reason disturbed mariner and lost mariner award Achievement Experience the first time you kill one.
A. brush constrictor (36vv-36) snake
B. razortongue slinker (36v) monitor lizard
C. red moss snake (37vv) snake
D. Evol Ew council member (37) lizardman
E. Evol Ew handler (38vv) lizardman paired with razortongue stalker (38vv) monitor lizard
F. tormented water weaver (38v) skeleton mage
G. vengeful acolyte (39^) ghostly skeletons, initially non-agro. Kill all surrounding mariners and spirits in Area F to agro.

Strategy:

Recommend you go clockwise and clear all the trios of skels first, then spiral your way to the altar.
Acolytes become agro one at a time, the first one after you kill the last undead outside the altar
a spectre appears after you kill the first acolyte. When you kill the second acolyte a raised spectre rises. When you kill the 3rd acolyte he becomes The Spectre of the Feerrott. ***He does NOT attack immediately as long as you are not in his range.

The Spectre of the Feerrott (39^) ghostly skeleton

Zone lockout timer (4 hours) starts when you kill the Spectre
Drops:
See Also
Edit