In-Game Examine Window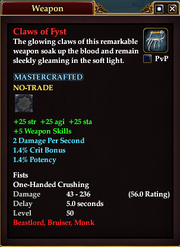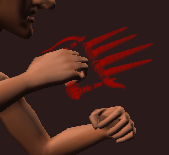 \aITEM 1938230020 1713321813:Claws of Fyst\/a \aITEM 1938230020 1713321813:Claws of Fyst\/a
What does this information mean?
Used for Bruiser Epic Quest The Broken Fist. Talk to that ogre in clefts to get the hints and kill that named monk in Sebilis (Sathiz or something - the one with the group of 4 students). Dropped the recipe for me even though he was grey. Recipe is level 5 artisan so that will be doable. ;)
EQ2i credits this article at Census for the info in this article.
the last update on Census for this item was:
Tue, 18 Jul 2017 14:50:47 +0000
Ad blocker interference detected!
Wikia is a free-to-use site that makes money from advertising. We have a modified experience for viewers using ad blockers

Wikia is not accessible if you've made further modifications. Remove the custom ad blocker rule(s) and the page will load as expected.