In-Game Examine Window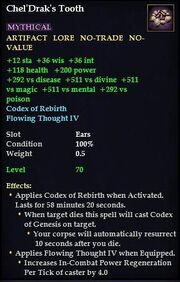 Chel'Drak's Tooth

MYTHICAL
ARTIFACT  LORE  NO-TRADE  NO-VALUE

+36 wis

+36 int

+12 sta




+200 power

+511 vs noxious +511 vs arcane

4 In-Combat Power Regeneration Per Tick

Codex of Rebirth
 
Slot
Ear
Level
70 (Tier 8)
 
Effects:


Applies Codex of Rebirth when activated. Lasts for 58 minutes 20 seconds.

When target dies this spell will cast Codex of Genesis on target.

Your corpse will automatically resurrect 10 seconds after you die.
Obtain: Killing Chel'Drak the Ancient Lord first on server
\aITEM 682154280 -759009627:Chel'Drak's Tooth\/a \aITEM 682154280 -759009627:Chel'Drak's Tooth\/a
What does this information mean?
This item is an artifact, meaning that it will only drop once for the first guild on the server to kill him.
Ad blocker interference detected!
Wikia is a free-to-use site that makes money from advertising. We have a modified experience for viewers using ad blockers

Wikia is not accessible if you've made further modifications. Remove the custom ad blocker rule(s) and the page will load as expected.