Ad blocker interference detected!
Wikia is a free-to-use site that makes money from advertising. We have a modified experience for viewers using ad blockers

Wikia is not accessible if you've made further modifications. Remove the custom ad blocker rule(s) and the page will load as expected.
In-Game Examine Window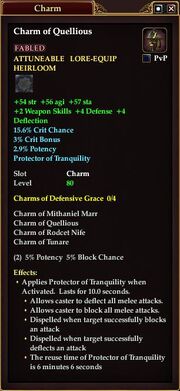 Charm of Quellious

FABLED
ATTUNEABLE   LORE-EQUIP   HEIRLOOM

+54 str

+56 agi

+57 sta


+4 Defense +4 Deflection
+2 Weapon Skills
15.6% Crit Chance
3% Crit Bonus
2.9%  Potency

Protector of Tranquility
 
Charges
Unlimited
Slot
Charm
Level
80 (Tier 9)
 
Effects:


Applies Protector of Tranquility when Activated. Lasts for 10.0 seconds.

Allows caster to deflect all melee attacks.
Allows caster to block all melee attacks.
Dispelled when target successfully blocks an attack
Dispelled when target successfully deflects an attack
The reuse time of Protector of Tranquility is 6 minutes 6 seconds
Obtain: From Avatar of Tranquility.
\aITEM 315491053 -1538748655:Charm of Quellious\/a \aITEM 315491053 -1538748655:Charm of Quellious\/a
What does this information mean?