In-Game Examine Window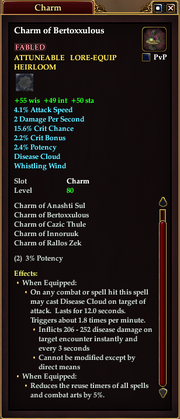 Charm of Bertoxxulous


FABLED
LORE-EQUIP  ATTUNABLE  HEIRLOOM
 

+55 wis

+49 int

+50 sta



4.1% Attack Speed
2 Damage Per Second
15.6% Crit Chance
2.2% Crit Bonus
2.4%  Potency

Disease Cloud
Whistling Wind
 
Slot
Charm
Level
80 (Tier 9)
 
Effects:


When Equipped:

On any combat or spell hit this spell may cast Disease Cloud on target of attack. Lasts for 12.0 seconds. Triggers about 1.8 times per minute.

Inflicts 206 - 252 disease damage on target encounter instantly and every 3 seconds
Cannot be modified except by direct means

When Equipped:

Reduces the reuse timers of all spells and combat arts by 5%.
Obtain: From Avatar of Disease in Antonica.
\aITEM 1770687408 -1052443454:Charm of Bertoxxulous\/a \aITEM 1770687408 -1052443454:Charm of Bertoxxulous\/a
What does this information mean?
EQ2i credits this article at Census for the info in this article.
the last update on Census for this item was:
Thu, 13 Jul 2017 14:51:35 +0000
Ad blocker interference detected!
Wikia is a free-to-use site that makes money from advertising. We have a modified experience for viewers using ad blockers

Wikia is not accessible if you've made further modifications. Remove the custom ad blocker rule(s) and the page will load as expected.