What does this information mean?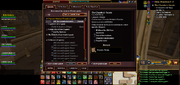 See the parent zone for strategy notes. Level 100 players may easily solo this zone, but the rewards are decreased.
You may either zone in from the door in Jarsath Wastes ( 815 -128.06 375.36 ) or use the Dungeon Finder UI.
Involved in quests
Edit
Ad blocker interference detected!
Wikia is a free-to-use site that makes money from advertising. We have a modified experience for viewers using ad blockers

Wikia is not accessible if you've made further modifications. Remove the custom ad blocker rule(s) and the page will load as expected.