Ad blocker interference detected!
Wikia is a free-to-use site that makes money from advertising. We have a modified experience for viewers using ad blockers

Wikia is not accessible if you've made further modifications. Remove the custom ad blocker rule(s) and the page will load as expected.
In-Game Examine Window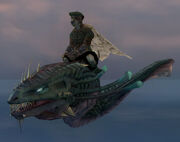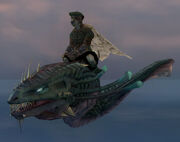 Cavedrifter
Summon Cavedrifter

FABLED
NO-TRADE   NO-VALUE
5400 vs physical 5400 vs elemental 5400 vs noxious 5400 vs arcane

Summon Cavedrifter
 
Charges
Unlimited
Slot
Charm (Optional)
Level
35 (Tier 4)
 
Effects:


Applies Summon Cavedrifter when Activated.

Summons a mount to ride.

Increases your Ground Speed by 100%
Increases your Air Speed by 150%

Increases: Chance to Block by 4.0%, Potency by 75.0%, Crit Chance by 280.0, Max power by 6,000.0, Max Health by 17,000.0, Ability Modifier by 11,000.0
Your Adventure Level must be 100 to receive Statistic Bonuses
Obtain: [How can I get one?] try LootDB or the linkback
What does this information mean?
This is a flying mount.
This item is from the Collectors Edition of the Terrors of Thalumbra expansion. If you purchased the Collectors Edition of this expansion while it was still available type /claim and locate this and other premium items in the Claim window.
An upgraded version of this mount was offered with the Premium version of the expansion.