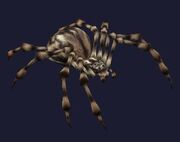 .
What does this information mean?
You may upload a JPG or PNG image of the in-game picture of this mob

Other than the boss, Cerrissa, at the end of the tunnels, this is the only mob in the zone. They are in groups of 4-6, and groups of different levels often overlap and are social.
This mob appears in both the Solo and Heroic versions of the instance, the only difference being that they are Heroic in the Heroic instance.
Ad blocker interference detected!
Wikia is a free-to-use site that makes money from advertising. We have a modified experience for viewers using ad blockers

Wikia is not accessible if you've made further modifications. Remove the custom ad blocker rule(s) and the page will load as expected.