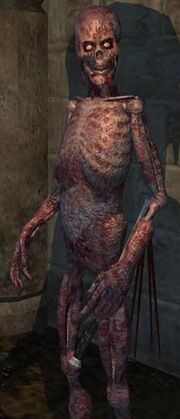 other resources
none applicable
These shambling creatures are the remains of the fallen of any race. Their once peacefully resting remains have been reanimated by some foul Necromancer, clawing their way out of coffins and graves. These creatures are devoid of any of their former sentience, knowing only the overpowering need to feed upon the living. 
Subcategories
This category has the following 2 subcategories, out of 2 total.
Pages in category "Zombie"
The following 200 pages are in this category, out of 208 total.
A

B

C

D

E

F

G

G cont.

H

I

K

L

M

N

O

P

R

R cont.

S

T

U

V

W
Ad blocker interference detected!
Wikia is a free-to-use site that makes money from advertising. We have a modified experience for viewers using ad blockers

Wikia is not accessible if you've made further modifications. Remove the custom ad blocker rule(s) and the page will load as expected.