Class Information for Swashbuckler
Type:
Rogue (Scout)
City:
Qeynos, Kelethin, New Halas
Primary Stat:
Agility
Armor:
Chain Armor
Weapons:
Swords, Axes, Spears, Rapiers, Daggers, Bows, Thrown; may dual-wield; may use poisons
Shields:
Bucklers, Round Shields
Expert Spells:
Combat Arts (Rare Loam)

Links to All Relevant Categories for: Scout > Rogue > Swashbuckler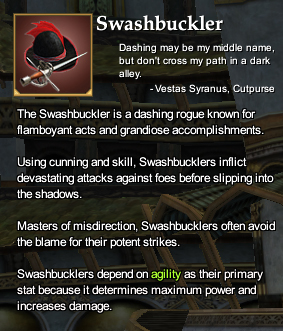 Those who seek to engage in combat with grace and panache while crippling opponents with strategic attacks will find the Swashbuckler profession to their liking. The Swashbuckler is a rogue who prefers to perform flamboyant acts of skill and daring, striking suddenly and using shadows to confuse opponents. The Swashbuckler best serves a party as a secondary line of physical offense, inflicting damage on opponents—particularly in devastating first strikes.
Epic Weapon
Edit
Class Armor
Edit
-EoF-
-RoK-
-TSO-
Rogue series
Swashbuckler
-PvP Server only-
-DoV-
Combat Arts By Category
Edit
The first spell in each category is listed. See the detailed description for the full upgrade line.
Any Position

Front or Side

Back or Side

Back Only

From Stealth

AoE Attacks

Thrown Weapon Attacks

Debuffs

Hate Control

Short Duration Buffs

Single Target Buffs

Self Buffs

Group Buffs

Fun

Misc
Combat Arts by Tier and Level
Edit
Grandmaster Training Choices
Edit
Tier 2 - Level 14
Tier 3 - Level 24
Tier 4 - Level 34
Tier 5 - Level 44
Tier 6 - Level 54
Tier 7 - Level 64
Tier 8 - Level 75
Tier 9 - Level 85
Tier 10 - Level 95
Tier 11 - Level 105
Achievements
Edit
Subcategories
This category has the following 6 subcategories, out of 6 total.
Pages in category "Swashbuckler"
This category contains only the following page.