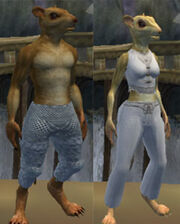 other resources
none applicable
The Ratonga are humanoid rodents, and display a penchant for petty thievery and other skulduggery.
Their cousins, the Roekillik and Ratillik are descended from common ancestors. 
Subcategories
This category has the following 2 subcategories, out of 2 total.
Pages in category "Ratonga"
The following 200 pages are in this category, out of 252 total.
(previous 200) (
next 200
)
A

B

C

C cont.

D

E

F

G

H

I

J

K

L

M

M cont.

N

O

P

Q

R

S
(previous 200) (
next 200
)