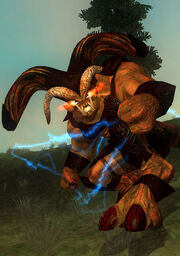 other resources
none applicable
The Nightbloods are a threat to every being they encounter. Where these powerful demons hail from is unknown; they traverse the many dimensions to access terrestrial realms, where they pervert the land with their malevolence. The Nightblood are pure evil, feeding upon the sinister aura produced by the corruption they inflict upon all who cross their path. 
Subcategories
This category has only the following subcategory.
Pages in category "Nightblood"
The following 40 pages are in this category, out of 40 total.
A

B

C

D

G

G cont.

H

I

K

L

N

N cont.

O

P

T

V

X