Class Information for Necromancer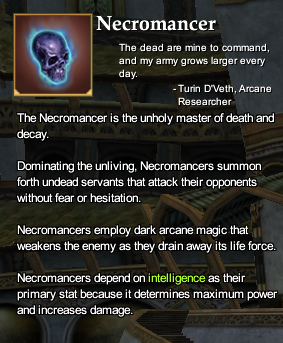 The Necromancer is ideal for any who are intrigued by the mastery of death and the commanding of undead servants. The Necromancer is able to summon a wretched undead servant to attack his enemies, and use the powers of death to weaken and destroy his enemies.
Epic Weapon
Edit
Class Armor
Edit
-EoF-
-RoK-
-TSO-
-SF-
-DoV-
Spells By Category
Edit
The first spell in each category is listed. See the detailed description for the full upgrade line.
Damage/Debuffs

Single Target Damage

Nondamage

Buffs/Utility

Self spells

Group spells

Ally spells

Cure/Dispel

Misc

Fun
Spells by Tier and Level
Edit
Grandmaster Training Choices
Edit
Tier 2 - Level 14
Tier 3 - Level 24
Tier 4 - Level 34
Tier 5 - Level 44
Tier 6 - Level 54
Tier 7 - Level 64
Tier 8 - Level 75
Tier 9 - Level 85
Tier 10 - Level 95
Tier 11 - Level 105
Subcategories
This category has the following 8 subcategories, out of 8 total.
Pages in category "Necromancer"
The following 3 pages are in this category, out of 3 total.